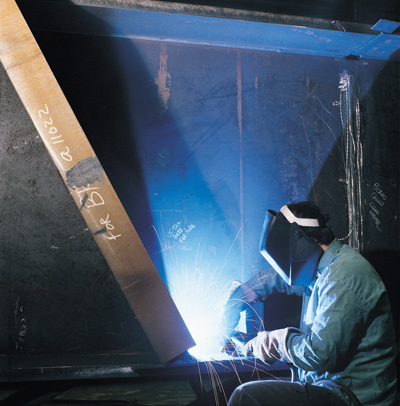 At Greiner, quality and safety drive everything we do for our customers. We hang our hat on the quality control systems we have in place for every project we work on – for the big and the not so big.
Maintaining industry certifications for our equipment and our people is essential. It helps our customers know that the work they get from Greiner is backed by the standards and specifications set forth by leading industry associations like the American Society of Mechanical Engineers (ASME) and the American Institute of Steel Construction (AISC), just to name a few.
Our commitment to quality, and our desire to meet or exceed industry standards, has helped us achieve these certifications:
AISC Certification – Complex Steel Building Structures
AISC Certification – Advanced Major Steel Bridges
AISC Fracture Critical Endorsement
AISC Sophisticated Coatings Endorsement
ASME U-Stamp Certification (Pressure Vessels)
ASME S-Stamp Certification (Power Boilers)
National Board R-Stamp Certificate of Authorization (required to make repairs or alterations on boilers, pressure vessels and other pressure-retaining items)
NFPA 70E Certified electricians
Cranes and Operators are ANSI, NCCCO, OSHA & MSHA Certified
Certified to operate in PA, MD, DE and Washington, D.C.
Why You Should Work with an AISC-Certified Company
The American Institute of Steel Construction (AISC) is the standard by which the steel industry is measured. This not-for-profit technical institute and trade association was established in 1921 to serve the U.S. structural steel design community and construction industry. Their specification and code development work, certifications and standardizations ensure that when you work with an AISC-certified fabricator, you're working with an organization that has successfully passed AISC's rigorous reviews and evaluations. If you work with a non-member fabricator, there's no guarantee of the level of quality work you might – or might not – receive.
Quality Credentials
Greiner's fabrication facility is supported by a fully staffed Quality Control Department. We maintain certifications with nationally endorsed societies like AWS (American Welding Society), ASNT (American Society for Nondestructive Testing) and NACE (National Association of Corrosive Engineers). Our qualified inspectors ensure that all fabricated products are inspected and in compliance with contract specifications.
Certifications currently held by Greiner's Quality Control Personnel include:
AWS-CWI (American Welding Society-Certified Weld Inspectors)
ASNT Level II & III Personnel
NACE Coatings Inspection Program
Certified UT (Ultrasonic Testing) Technicians
Numerous Independent NDT (Nondestructive Testing) Certifications from various state highways programs