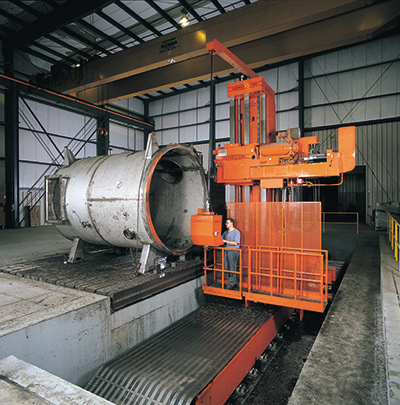 When it comes to milling customer parts, Greiner's horizontal boring mill has the capacity, versatility and precision needed to do the job right. We are proud to have the largest horizontal boring machine in a job shop in our region. High-precision cuts are possible with the rigid machine platform of the horizontal cutter, and our highly trained operators can easily configure the machine to practically any application.
Horizontal Boring Mill – Equipment Details
6" spindle diameter with 48" travel to machine components 132" high x 350" long in a single set-up
Versatility from many industries – aerospace, agriculture, construction, mining, oil and gas, power generation, wind
Large weight capacity – table handles parts weighing as much as 88,000 lbs.
Rigid machining platform with one-piece column base and bed
High performance drive and way system delivers superior stiffness and allows fast traverse (25 m/min)
Modular design – select machine features and capabilities based on applications
Contact us to learn more about our horizontal boring mill or complete the Request a Quote form below.