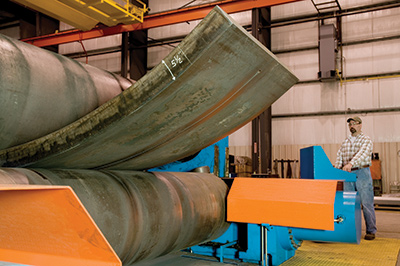 Greiner's heavy plate roll machines deliver big capabilities – the biggest in the region. We can easily step in and get the job done when others can't. And we'll always get it done with precision and quality that exceeds our customers' expectations.
Over the years, we've invested in a wide range of plate roll machines that super-size our precision plate rolling capabilities. This means we can offer more to our customers – large, highly precise, custom work of just about any size and shape specification.
Plate Roll – Equipment Details
Our large metal plate roll allows us to roll a 4-3/4" thick, 12' wide carbon steel plate to a 177" diameter – or a 3-3/4" thick, 12' wide carbon steel plate to a 49" diameter
With these capabilities there's no press brake lines to buff out, and fewer pieces to weld. The end result for the customer is a stronger finished product that meets or exceeds industry standards.
Applications
Structural
Food
Industrial
Petrochemical
Power
Marine
Construction
Contact us to learn more about our plate roll equipment or complete the Request a Quote form below.