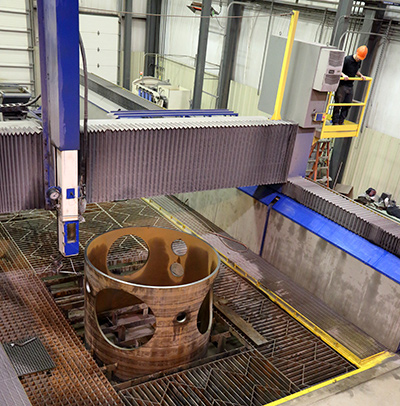 Our latest investment in metal plate cutting equipment is a 5-axis waterjet cutting system with a 5' high x 15' wide x 50' long work envelope. This hydraulic cutting system lets us go beyond traditional cutting capabilities – we can cut a plate up to 16' wide and handle specialized cuts that many other steel service centers can't.
Waterjet Cutting System – Equipment Details
Capable of cutting anything but tempered glass (steel, granite, rubber and more)
Can angle cut up to 90-degrees from perpendicular and can rotate the cutting head 360-degrees
Can cut material up to 12" thick – all types of steel, aluminum, granite, rubber and more
Can also cut on a contour
Overhead crane system has a maximum lifting capability of 50 tons with 31' hook height
History of Waterjet Technology
When the material being cut is sensitive to the high temperatures that other cutting devices often create, a waterjet cutting system is a viable solution. Water jets first appeared as an industrial cutting tool in the 1930s. Early applications were done at a low water pressure and only soft materials like paper could be cut.
Years later, the aviation, automotive and oil industries pushed waterjet technology to higher pressures. But it wasn't until the 1970s that waterjet cutting technology was introduced to the manufacturing world. Today, thanks to further technology advancements, waterjet systems are highly precise cutting tools that can be used on many materials including textiles, rubber, foam, plastics, composites, stone, tile, metal and foods.
Contact us to learn more about our waterjet cutting equipment or complete the Request a Quote form below.