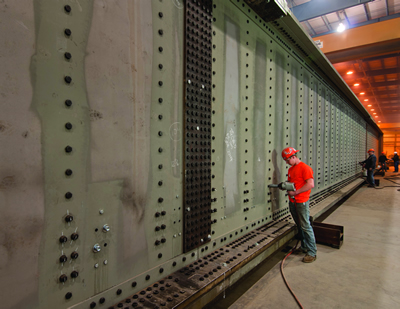 Greiner is an expert in the fabrication of heavy-duty structural steel girders. We can produce them to a customer's exact specifications. So if you have a big construction project that requires large girders, look no further than the highly skilled craftsmen at Greiner.
Structural steel girders play a critical role in any project that requires them. Their job is to directly transfer weight loads to the steel columns upon which they rest. The most common use of girders is in bridges. If the girders aren't properly designed and fabricated, they run the risk of underperforming – a recipe for disaster.
Greiner's heavy-duty girder builder lets us produce girders up to 12' deep x 150' long and weighing as much as 140 tons. We're AISC certified for advanced major steel bridge fabrication, with fracture-critical and sophisticated coatings endorsements. It's what makes us a trusted leader in the fabrication of stadium girders, bridge girders and more.
Rigging and Transport
Extra-long girders require extra-large transport capabilities. Greiner's in-house Oversize Transit division can get a customer's girders to their destination, safe and sound, with our fleet of tandem-axle trucks, drop-deck and lowboy trailers and steerable dollies. Once there, our Mobile Crane division can provide stable lifting operations using our all-terrain and truck canes with 40-ton to 450-ton lifting capacity and boom lengths of up to 440'.
Structural Steel Girders – Applications
Bridges
Sports stadiums
Railway systems
Buildings
Contact us to learn more about our structural steel girder capabilities or complete the Request a Quote form below.
Mini Case Study
Greiner Girders at Pittsburgh Steelers Stadium
When the Steel City calls, you better answer – and Greiner did. We were excited to be the job shop selected to provide heavy-duty steel fabricated stadium girders for seating at Heinz Field, home of the Pittsburgh Steelers. The project broke ground in 1999 and the stadium opened in 2001. The Greiner team fabricated specialized steel raker girders for the stadium seating. Today, the stadium seats over 67,000 fans.
Greiner also produced large-scale girders for other customers, including Norfolk Southern Railroad. We fabricated several 12' deep x 129' long steel girders, each weighing 145,000 lbs. for one of their railroad bridges. And for a New York City high-rise project, Greiner built a transfer girder weighing 133 tons for an indoor swimming pool located midway up the building.