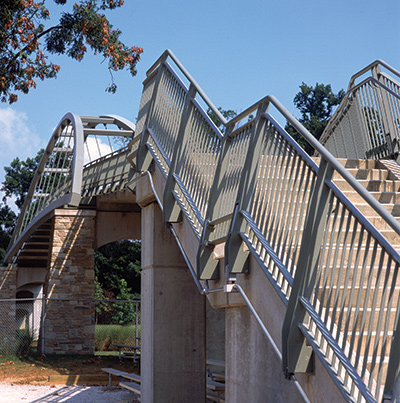 As an AISC-certified fabricator and member of the American Society of Mechanical Engineers (ASME), Greiner is licensed and certified to take on your next structural steel mezzanine project. We can also produce other accessories – such as steel platforms and staircases – to support your mezzanine system and make it safe, efficient and accessible.
Your Mezzanines Manufacturer
Whether you're looking for extra storage space or more office space for employees, Greiner is a smart choice when it comes to choosing a mezzanines manufacturer. We can build a customized structure that perfectly fits your space and makes it more functional.
Steel Platforms and Staircases
Greiner's expert fabrication capabilities allow us to produce the steel platforms, metal steps and staircases that will make your mezzanine system accessible to your workers. We can manufacture metal steps of all types – spiral, U-shaped, L-shaped or straight run. All platforms and stairs are fabricated to industry codes and are OSHA-compliant and quality inspected and tested prior to use.
Finishing and Transport
Our Industrial Coating and Blasting division will also paint and finish your system to your specifications. If you need safe transport of your mezzanine system to your facility, Greiner's Oversize Transit division can handle that as well. Our comprehensive in-house services make it easy.
Mezzanines, Platforms & Stairs – Uses
Viewing platform
Display/Exhibit platforms
Equipment platform
Maintenance platform
Parts storage mezzanine
Catwalk mezzanine
Mezzanines, Platforms & Stairs – Industries Served
Warehousing
Industrial
Manufacturing
Retail
Entertainment
Contact us to learn more about our mezzanine and steel platform capabilities or complete the Request a Quote form below.