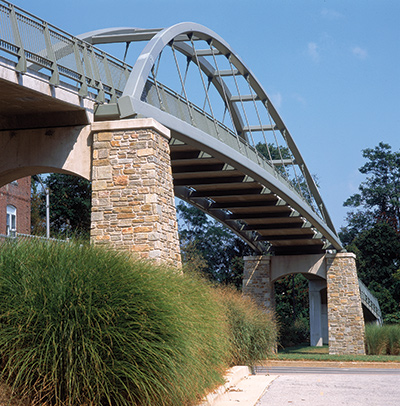 Pedestrian and footbridges are becoming more and more common in the U.S. They are regularly seen over highways, railroad tracks, rivers and wetlands. They serve an important function – to provide a safe crossing for walkers, runners, cyclists and even animals.
The vast majority of pedestrian bridges are constructed from structural steel rather than other materials such as concrete, a common material used in vehicular bridges. Structural steel delivers the strength and durability these bridges need to hold up to high foot traffic year after year.
Pedestrian and Footbridge Fabrication
Greiner's experience in structural steel fabrication makes us a great choice for your pedestrian bridge or footbridge fabrication project. We can fabricate to just about any customer specification – as traditional or as complex as needed. We can also help with the delivery and installation of your project.
Greiner holds the following certifications to ensure top quality for your pedestrian bridge project:
AISC Certification – Advanced Major Steel Bridges
AISC Fracture Critical Endorsement
AISC Sophisticated Coatings Endorsement
Steel Truss Bridges
Greiner can fabricate many styles of truss bridges. Trusses can be an important piece of a pedestrian or footbridge project, and Greiner has the capabilities to fabricate your steel truss bridge in accordance with AISC and other industry codes and standards.
Bridge Finishes
Greiner can put just about any liquid coating or metalized finish on your bridge before it leaves our facility. The expert craftsmen in our in-house Industrial Blasting and Coating division have the skills and equipment do the job right.
Pedestrian Bridges – Industries Served
Industrial – oil and gas, mining
Commercial – hospitals, universities
Recreational – golf courses, resorts, entertainment complexes
Municipalities – parks, recreation trails
Transportation – light rail, airports
Contact us to learn more about our pedestrian bridge fabrication capabilities or complete the Request a Quote form below.