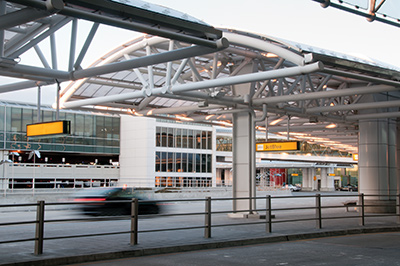 Structural steel trusses are a critical component of many construction projects and are one of the many high-quality steel products that Greiner can expertly fabricate. We offer all of the services a customer needs under one roof – materials, fabrication, welding, finishing and even installation. And as a member of the American Institute of Steel Construction (AISC), you can trust in the quality and structural integrity of your truss project when it comes from Greiner.
We can build large-scale, steel-fabricated beam trusses and pipe trusses for a variety of markets, including the more challenging specialty projects that require complex lines or extremely long spans. Our decades of experience have seen us produce bridge trusses for major highways and roof trusses for major airports. They can be straight, rolled, pitched or curved – our expert team has the experience and capabilities to do it all.

Steel Fabricated Trusses – Applications
Gymnasiums and auditoriums
Performance halls
Airport terminals
Aircraft hangars
Sports stadium roofs
Bridges
Other construction and building components
Contact us to learn more about our steel fabricated truss capabilities or complete the Request a Quote form below.
Mini Case Study
Major Airports Rely on Greiner Trusses
Greiner was selected as the job shop for two big steel-fabricated truss projects at East Coast airports – one at Baltimore Washington International Airport (BWI) and the other at New York's JFK International Airport.
At BWI, Greiner built architecturally exposed structural steel (AESS) pipe trusses for pedestrian canopies at the airport terminals. The trusses were a complex grid measuring more than 15,000 linear feet.
A project at JFK Airport required Greiner to produce steel node connectors that were used in their airport terminal construction.