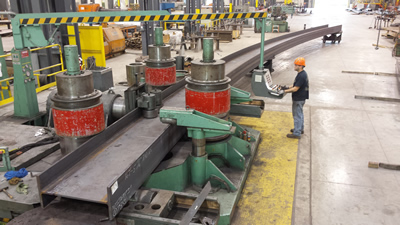 If your structural steel fabrication project requires cambering of beams, Greiner has the experience and equipment to do the work.
In the steel industry, cambering is often required in structural steel beams to compensate for dead load deflections and help increase load capacity. When a beam is cambered, a permanent curve is placed in the beam following fabrication. The cambering of steel is typically achieved using one of two methods – hot or cold cambering. Our experienced personnel will help you determine which method is best.
Some structural steel fabrication projects allow cold cambered beams. At Greiner, we have the experienced team and specialized equipment to do the work. Cold cambering is becoming an acceptable method for cambering steel, but cambering can also be done by the application of heat (heat cambering).
Contact us to learn more about our cambering services or complete the Request a Quote form below.