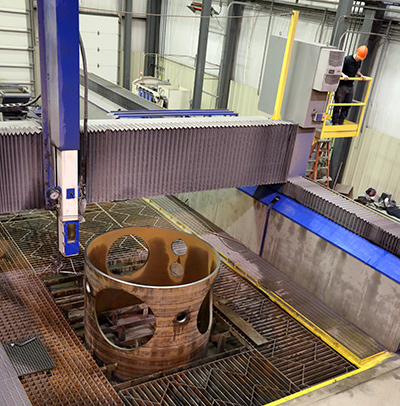 The perfect mix of advanced technologies and highly skilled Greiner craftsmen is what drives consistent quality when it comes to our large metal cutting services. We can meet or exceed almost any cutting requirement.
5-Axis Waterjet Cutting System
Greiner's newest investment in our metal plate cutting services is a 5-axis waterjet cutting system with a 5' high x 15' wide x 50' long work envelope. This system lets us go beyond traditional cutting capabilities – we can cut a plate up to 16' wide and handle specialized cuts that many other steel processors can't.
More about our system:
Able to angle cut up to 90-degrees from perpendicular and can rotate the cutting head 360-degrees
Can cut material up to 12" thick – all types of steel, aluminum, granite, rubber and more
Can cut on a contour – not just flat cuts
Overhead crane system has a maximum lifting capability of 50 tons with 31' hook height
Additional Cutting Equipment: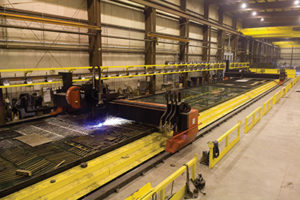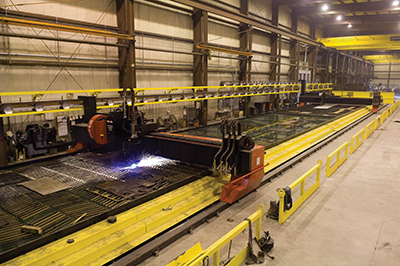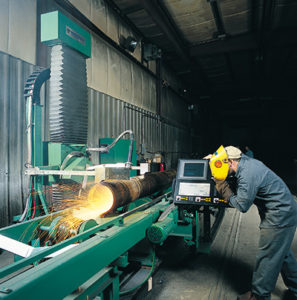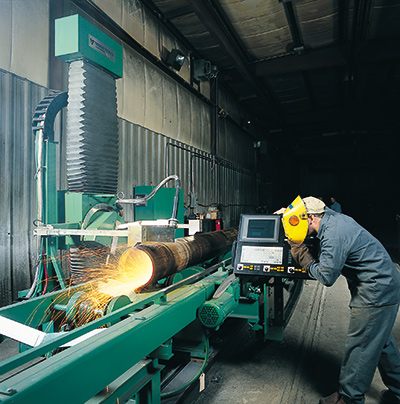 CNC Triple-Gantry High-Definition Plate Processing System with a 16'8" wide x 160' long water table that can cut carbon steel plate up to 10" thick and stainless steel plate up to 6-1/4" thick
Triple-gantry system can also drill holes up to 4" in diameter as well as drill and tap, countersink, surface mill and contour bevel plates in a single set-up
CNC 4-Axis Pipe Cutting System – 3" to 42" pipe diameter capacity range with 500 lbs. per foot weight capacity
CNC Anglemaster – CNC cutting and punching angles up to 6" x 6" x ½" thick
Cutting and Punching Flat Bar and Angles- up to 6" x 6" angle x ½" thick
Contact us to learn more about our cutting services or complete the Request a Quote form below.