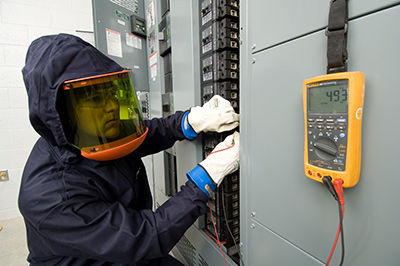 Greiner's electrical contracting team is well-trained and well-equipped for any industrial job our customers require.
Originally created to round out the services provided by our fabrication and industrial contracting offerings, Greiner's electrical contracting team has grown in size and demand to evolve into a separate entity. Greiner Electrical consistently delivers successful jobs by maintaining an expert team and equipping them with the best tools and training that's available. They're always committed to the highest level of quality workmanship and detail.
Electrical Services
Machinery wiring and electrical installation
Machinery relocation
New facility wiring and existing facility upgrades
Lighting installation
Energy efficient lighting analyzing and upgrades
Control panel fabrication and installation
Electrical maintenance support
Arc flash analysis support
Preventative maintenance
Thermal imaging
Load studies – 30-day, up to 333 amps at 480V
Insulation resistance testing
Plant shutdown support
Underground conduit and pipe locating
Electrical assistance during construction
Safety & Performance
Greiner electricians undergo rigorous safety training each year to remain certified in the industry's safety practices and procedures. All Greiner Electric personnel carry current NFPA 70E certification cards and are instructed and approved by an authorized IACET provider. Staff training includes the following:
New employee safety orientation
NFPA 70E certification
Lock out/tag out
Aerial lift operation
MSHA (surface mine) training (Part 46)
Powered industrial truck
Hazard communications
Confined space
CPR/AED
Fall protection
Power tool safety
Fire extinguisher use
Ladder safety
Personal Protective Equipment (PPE)
Scaffold safety
Fleet and driver safety
Respiratory protection
Blood-borne pathogens
Job Safety Analysis (JSA)
ISNetworld qualified
Contact us to learn more about our electrical contracting services or complete the Request a Quote form below.