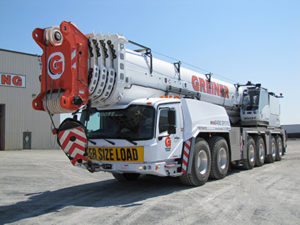 Greiner's got lifting power – let our fleet and crane operators do the heavy work for you.
Click here to see a list of our Cranes & Capacities
Greiner Crane makes it easy to rent the correct hydraulic all-terrain or truck crane and operators to accomplish any lift, anytime, anywhere. With more than 35 years in the mobile crane service business, we provide hoisting and rigging solutions for complex, heavy industry lifting and transportation challenges. From pre-cast concrete, bridge beams and structural steel to electrical transformers – you name it and Greiner Crane can lift it.
History
Frank Greiner bought his first crane in 1978. The hydraulic, 15-ton Galion crane was used to support his millwrighting capabilities. More cranes and more lifting experts were soon added, and Greiner Crane expanded to offer lifting services to other companies. Along the way, Greiner purchased two smaller crane operations – Steffy Crane in Ephrata, PA and Cranewerks in Hanover, PA.
Today, Greiner is located in Mount Joy, PA. We're licensed and certified to operate in PA, DE, MD and Washington, D.C. We're fully insured and also provide rigging and transport services.
Experience
Providing quality mobile crane service requires much more than just equipment operators. It takes individuals who are capable of examining your complete project and designing a lifting equation that meets your specific needs. We work with you to choose the size and type of crane for your job. We'll make the experience as smooth as possible – from mobilization into your site to teardown and equipment removal.
Safety
Safety is Greiner Crane's primary focus. Our equipment is carefully maintained to manufacturers' standards and is third-party inspected on a regular basis. Our safety program has led to an impeccable safety record that places us among the industry elite. Our operators have worked on every type of job imaginable and each is individually trained, certified and licensed.
Beyond Cranes
Greiner can build durable custom crating for any size or piece of equipment for any type of transport. We can also bag or wrap equipment to ensure the best protection from the elements. We can also offer temporary outdoor storage on our secure 40-acre lot at our Mount Joy, PA location. Or, we can arrange for secure storage closer to you. Smaller parts that require critical protection can be considered for indoor storage at one of our facilities.
About Greiner Crane
Located in Mount Joy, PA
Licensed in PA, DE, MD and Washington, D.C.
Cranes and operators are ANSI, NCCCO, OSHA and MSHA certified
Fully insured
All-terrain trucks and cranes
40-ton up to 450-ton lifting capacity
Boom lengths up to 440'
Hourly, daily, weekly and long-term rentals
Local and long-distance work
Cranes and operators available 24/7
Rigging and transport services available
Contact us to learn more about our mobile crane rental services or complete the Request a Quote form below.
MOBILE CRANE CAPACITIES
Our mobile cranes are rated from 40-ton to 450-ton.
Learn more
RIGGING AND TRANSPORT
Let Greiner Crane handle all your rigging and transport needs.
Learn more
AREAS WE SERVE
We are licensed to serve the Mid-Atlantic region. How can we help you?
Learn more