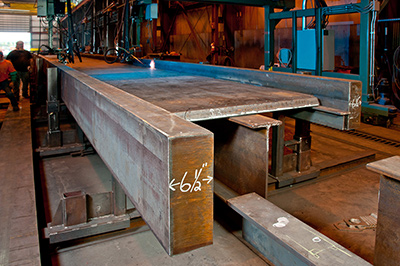 Structural steel plate and sheet metal fabrication is a big part of Greiner's business.
Building heavy and complex girders is a specialty at Greiner. We're able to build girders up to 12 feet deep, 150 feet long and weighing up to 140 tons. Our Girder Welder Gantry utilizes a 5/32-inch diameter single or tandem submerged arc welding process. This significantly reduces our labor and your cost.
Greiner can roll up to a 4-3/4" thick steel plate x 12' wide on our plate roll. Our press brake is big, too. With 2,750 tons of power and a 40' bed, this machine can make a 90-degree bend on a 1" thick grade 50 steel plate by the full 40' length of the bed.
Our 30' x 50' leveling bed is permanently installed in the shop floor, allowing workers to level within a highly precise fifteen-thousandths of an inch.
Man and Machine
Greiner's highly skilled and certified craftsmen are supported by the best tools in the industry. It's the perfect combination for doing each and every metal fabrication job right. Our ASME and AWS-certified welders work with some of the finest equipment in their trade – MIG and TIG welders, inner and outer shield and submerged arc with manipulator. This combination of man and machine has resulted in ASME code certifications for pressure vessel, heating boilers, power piping and repairs.
Steel Plate Fabrication
80′ wide x 600′ long fabrication bays with 31′ hook height of overhead cranes
ASME U-Stamp Certification
ASME S-Stamp Certification
National Board R-Stamp Certificate of Authorization
Fabrication capabilities for pollution control systems
Stainless steel food-grade fabrication
General "job shop" fabrication
Product Examples
Girders
Baghouses and Ductwork
Hoppers and chutes
ASME tanks and non-code tanks
Pipe bollards
Contact us to learn more about our steel plate and sheet metal fabrication or complete the Request a Quote form below.