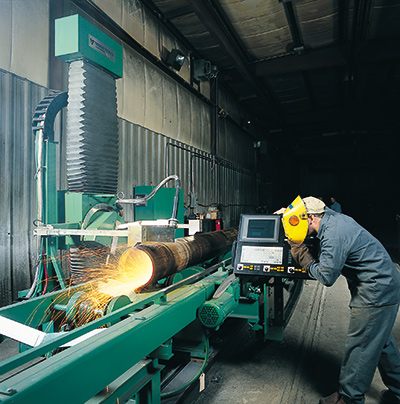 Greiner's cutting department features a CNC 4-axis pipe profiling machine, which cuts from 3" up to 42" diameter pipe. This highly specialized equipment will also cut "fish mouths" for pipes that need to intersect other pipes. This takes the manual work out of the job, eliminating the need to make patterns and hand cut contours onto pipes.
Many other job shops don't have pipe cutters that can execute the types of complex cuts that Greiner can. Other shops would need to cut parts manually – requiring extensive labor and driving up project costs for the customer.
Pipe Cutting System – Equipment Details
CNC 4-axis pipe profiling machine cuts and bevels pipes
Pipe diameter capacity range – 3" to 42"
Unlimited wall thickness up to 500 lbs. per foot
Capable of cutting with Plasma and Oxy-Fuel cutting processes
Types of Cuts:

Straight
Saddle (Fish Mouth)
Miter
Tee
Multi-saddle
Gusset slots
Contact us to learn more about our pipe cutting equipment or complete the Request a Quote form below.