Trilogy Machinery Inc.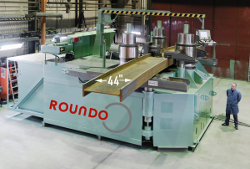 Trilogy Machinery Inc., Belcamp, Md., the exclusive North American distributor for ROUNDO bending rolls of Sweden, has sold a ROUNDO model R-16S, which the company says is the world's largest angle bending roll, to Greiner Industries of Mt. Joy, Pa.
The machine can roll up to a W44-in. by 262-lb. beam the hard way (X-X axis) and any beam the easy way (Y-Y axis). It can roll an HEB 1000 beam, equivalent to a W40-in. by 211-lb. beam, to a radius less than 100 ft. with almost no distortion. The 235,000-lb. machine also can roll 26-in.-OD pipe with 2-in. wall thickness and almost any square or rectangular tube.