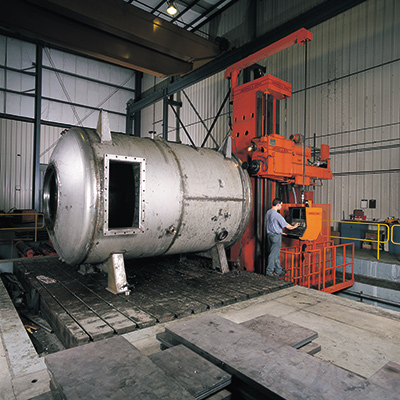 Gas pressure vessels. Water pressure vessels. Mixing vessels. Filters. Fermenters. If it's an oversized industrial pressure vessel you need, no matter what industry or application, Greiner can help with your custom project.
Over the years, we have become industry experts in the fabrication of industrial pressure vessels. We use different varieties of pressure vessel quality (PVQ) steel plates depending on the vessel application, and we can work with customer-supplied materials.
ASME Pressure Vessels
Because pressure vessels are closed containers that hold gases or liquids that are at a very different pressure than ambient pressure, there are strict guidelines to follow to ensure the performance of the vessel is reliable and built to industry standards. Greiner holds both the ASME U-Stamp (Pressure Vessels) and S-Stamp (Power Boilers) and also has the National Board R-Stamp Certificate of Authorization. This means we manufacture to established industry guidelines, guaranteeing the highest quality for your product.
Pressure Vessel Finishing
If you have surface finishing requirements for your pressure vessel, Greiner's in-house Industrial Blasting and Coating division can do the job. Need your oversized pressure vessel safely delivered to your destination? Greiner can do that, too. Our Oversize Transit division has trucking and lifting resources to move and position just about anything you can think of.
Pressure Vessels – Industries Served
Oil and Gas
Petrochemical
Biochemical
Industrial
Food/Dairy
Pharma
Contact us to learn more about our industrial pressure vessel capabilities or complete the Request a Quote form below.