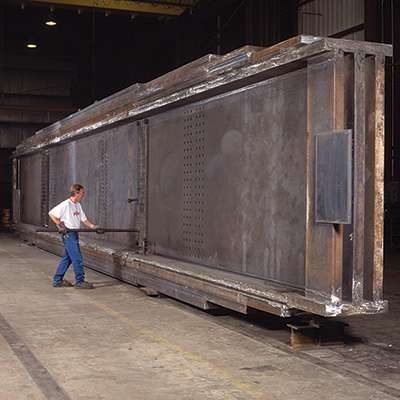 Hands down, Greiner is one of the top structural steel fabricators in the industry. Our world-class facility and equipment – along with our experienced and highly skilled craftsmen and loyal customers – make it possible.
BIG Jobs
We can handle practically any structural steel fabrication job you send our way – but taking on the really big, custom jobs is our sweet spot. We're equipped to handle the projects that most fabricators aren't capable of handling. In fact, some of our customers are other fabricators that turn to us for support on their large-scale jobs. We also like to take on the not-so-big jobs so our shop is always running steady.
Jobs Performed
beam & pipe trusses | heavy columns | plate girders | beams | heavy welding fabrication | expansion dams on bridges | bearing pads | sole plates | bridge nodes | pedestrian and foot bridges | pipe bridges | vehicular bridges | railroad bridges
BIG Equipment
Highly skilled craftsmen such as ours deserve the best tools. We can roll a beam up to a W44″ by 262 lbs/ft the "hard way" and pipe up to 24″ O.D. with 2″ wall thickness on one of the largest machines of its kind in the Eastern United States. Our press brake is no lightweight, either – with 2,750 tons of power with a 40′ bed. Another impressive machine is our girder builder. It can fit and weld girders up to 12′ deep x 150′ long and weighing 140 tons.
Our AWS-certified welders work with the finest equipment in their trade – MIG and TIG welders, inner and outer shield and submerged arc with manipulators. This combination of man and machine has resulted in AISC certifications for complex steel building structures and advanced major steel bridges. We also hold fracture-critical and sophisticated coatings endorsements.
Equipment Highlights
200-acre industrial complex – with over 440,000 square feet under roof | 80' wide x 600' long fabrication bays | 140-ton lifting capacity | 31' hook height of overhead cranes | one of the largest plate rolls in the Eastern U.S. | press brake with 2,750 tons of power with a 40' bed | 30' x 50' leveling bed | forklifts with up to 60,000-pound lifting capacity
Contact us to learn more about our structural steel fabrication or complete the Request a Quote form below.